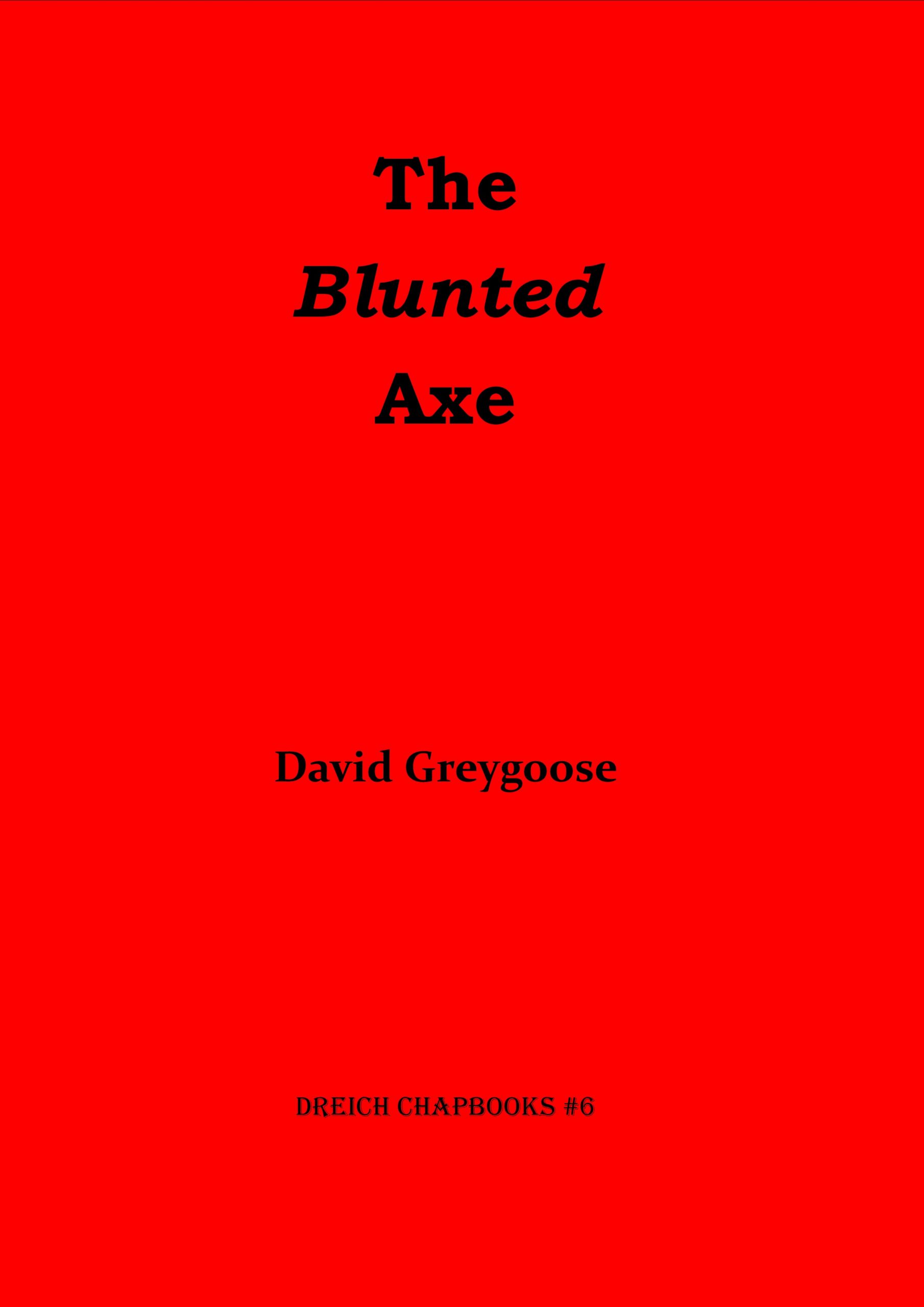 David Greygoose was born near Northampton and now lives on the edge of Liverpool.
He is the author of:
Brunt Boggart: A Tapestry of Tales (Hawkwood/Pushkin)
'Conjures a magical, poetic world of tricksters in an ancient village.' The Observer
'It tastes fabulously medieval…
and sounds like verbs of thunder and earth'
Jay Griffiths
Writing as Dave Ward:
Jambo (Riot Stories Ltd/Impact)
'reminds me of Brian Patten's Little Johnny's Confession, though it's very different (if you know what I mean)'
Paul Weller
On the Edge of Rain (Headland)
'the ordinary takes on the vividness of dream'
Matt Simpson
Inside Pale Eyes (Hawkwood: with drawings by Bryan Biggs)
'anecdotes and twisted fables, a sometimes bitter but irrepressible
humour'
Andrew Darlington
He is co-editor of Smoke magazine (The Windows Project)
Reviews of The Blunted axe
https://www.writeoutloud.net/public/blogentry.php?blogentryid=108282
A concentrated, intense sequence.
Two weeks on, these poems continue to haunt. The world they occupy draws the reader in, and once that reader comes to terms with that world and its flickering light, they have the strangest power. I've just read The Girl in the Woods and The Dreaming again, and they come at me like images glimpsed out of chiaroscuro.
SEAN STREET
I love the dark and ancient atmosphere – atavistic perhaps. Very unusual in contemporary small press poetry. Some of the poems seem like incomplete stories, dreams, almost riddles. But that gives them a fairytale quality of mystery. My favourites were: The Dreaming, Down by the Byre and The Burning.
JOHN SHORT
I'm finding many of these ballads and snatches really memorable – the doomed relationships, the way they draw on folk beliefs, the way so many of them stand at the lych-gate, and of course their music.
KEVIN CROSSLEY-HOLLAND
poignant, wistful, full of meaning. Very beautiful.
SYLVIA HIKINS
it's such a mysterious and mystical way of looking at the natural world.
NATALIE LINH BOLDERSTON